Our Story
Back Of The Spoon Canada specializes in hand crafted perogies in Calgary, Alberta. Grandma's rule when making perogies was to stir with the back of the spoon as to not tear the dough. Thus the inspiration for Back Of The Spoon. We're passionate about bringing people together over food. Our perogies are hand crafted with love, and made from the freshest locally sourced quality ingredients.
The Ultimate Comfort Food
Meet The Maker
Hi! I'm Erin Chromik, the founder of Back of the Spoon.
Back of the Spoon officially launched Christmas 2017. But long before that I had been serving my perogie casserole whenever I would host parties. It was always the most requested dish from friends. Word quickly spread and people started to ask where they could buy them. As my concept began to grow, one of my best friends convinced me to start selling at markets around Calgary.
Read More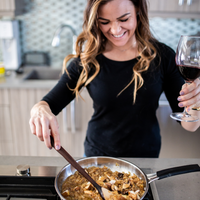 Taste Buds Don't Lie
The absolute best!!!! This lady knows how to make an amazing perogie!!! The sauces are delicious!!!! Highly recommend!!!

Lynn Palanuik
These are the best! Reminds me of my Baba's cooking from years ago. From the sauce to the perogies to the mushrooms to the dill, it's just heaven. I need more!!

Jen Gouin
Cannot even describe to you how unreal these perogies are.. And the sauce, my god the sauce.. Both so delicious! Would definitely recommend these to everyone I know!

Jami-lee Cuthbert